Sophos SG Unified Threat Management

All-in-One Protection
Sophos offer the latest next-gen firewall protection you need plus features you can't get anywhere else – including mobile, web, endpoint email encryption and DLP. No extra hardware. No extra cost. Simply choose what you want to deploy.

Network Protection
All the protection you need to stop sophisticated attacks and advanced threats while providing secure network access to those you trust.

Sandstorm Sandboxing
Sandstorm provides a whole new level of targeted attack protection, visibility and analysis. It can quickly and accurately identify evasive threats before they enter your network.

Wireless Protection
Set up, manage and secure wireless networks in just minutes with the UTM's built-in wireless controller that works with our full range of wireless access points.

Email Protection
Full SMTP and POP message protection from spam, phishing and data loss with our unique all-in-one protection that combines policy-based email encryption with DLP and anti-spam.

Web Protection
Comprehensive protection from the latest web threats and powerful policy tools ensures your users are secure and productive online.

Web Server Protection
Harden your web servers and Microsoft Enterprise Applications against hacking attempts while providing secure access to external users with reverse proxy authentication.
Sophos SG UTM built-in reporting means you'll know exactly what's happening with your users. Fix problems fast and shape your policies, keeping your users secure while boosting network performance. And, you get detailed reports as standard, stored locally with no separate tools required.
At-a-glance flow graphs show usage trends and web activity
Our daily summary executive report keeps you informed
Report anonymization can hide user names where needed
Built-in Syslog support and automated log backup options
Although you can have all your logging and reporting built in to your box, sometimes you may need a little more. For that, you can add Sophos iView.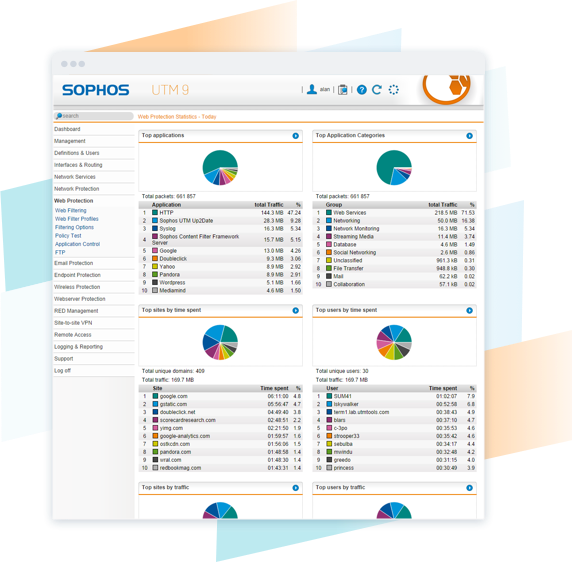 SG Series
sohpos SG Series hardware appliances are purpose-built devices with the latest technology to provide the ultimate in performance.

Software & Virtual
Install the UTM image on your own server hardware or your preferred virtual environment including VMware, Citrix, Microsoft Hyper-V and KVM.

Cloud
Sophos UTM is an industry leader and a preferred solution for securing Amazon Web Services network infrastructure.
Have a question? We would love to answer you
Contact us today and our sales engineer will get back to you in almost no time. Contact us